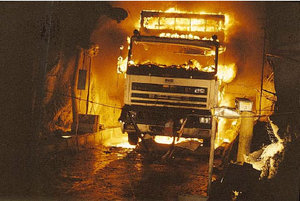 Fire incidents in tunnels immediately catch the public's attention and this is quite natural. The media report at length in particular when people come to harm.
The disastrous London Underground fire at the Kings Cross Underground station in November 1987, which cost 31 persons their lives and the catastrophic outcome of the Baku Underground fire (Azerbaijan) in October 1995 resulting in 289 deaths, are mentioned as examples.
The Channel Tunnel fire between the UK and France on Nov. 18, 1996 , where fortunately all the tunnel users escaped with their lives as well as the 2 terrible fires in road tunnels on March 24, 1999 below Mont Blanc in France and on May 29, 1999 beneath the Tauern range in Austria, resulting in 39 and 12 deaths respectively, had also serious consequences.
As a result of the recent fire disasters, experts are discussing issues relating to the basic appraisal of existing safety standards in tunnels. At stake are preventative constructional as well as operational protection measures together with those designed to combat fire.
The geometrical design of the tunnel crosssection, the installation of the intermediate ceiling for separating the air intake and outlet channels above the carriageway zone and in particular, their side abutment and in many cases, fire protection linings specially set up in the wall and ceiling zones in the case of road tunnels or subterranean stops in the case of Underground, rapid transit and urban railways are all numbered among preventative constructional fire protection measures.
The setting up of special escape ways such as for instance, for the Gotthard Road Tunnel in Switzerland and breakdown bays in the case of long tunnels is also numbered among constructional fire protection measures.
To know more: