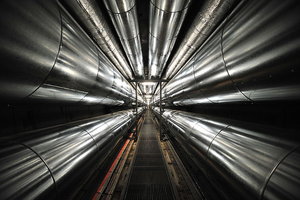 HEATING
The urban heating system exist all other the world for more than 150 years. Steam heating systems have been developed in the States during the 1850's.
Notably one in Anapolis for the Naval Academy in 1853 which is still in use.
Others have been developed in London, Zurich, Warsaw and in Sweden beteween 1850 and 1870. But the first experiment of a real system with 2km of pipes has been done in Lockport (NY-USA).
Nowadays, these systems exist in many towns (Paris, Prague, ...)
New developments are on going all around the world specifically in China but also in Russia, Serbia ...
Example
Also the development of geothermy is a new use of underground structures to heat buildings in a more ecological way.
COOLING
For industrial reasons, transport of cool water exists for a long time. Now, due to the global warming more and more inhabitants of the cities all over the world are looking for air conditioning. Cool water networks is surely a respond to this.
Such systems have been developed in new areas such as for the Expo in Lisbon, marina bay in Singapore, Bahrein bay or in cities where multi purpose galleries were available and consequently the cost of such a system was quite low.