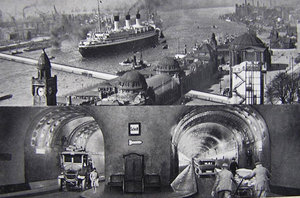 The generalization of the automobile use at the beginning of the XX century supposed a major development in road engineering and the rapid expansion of roads all over Europe and North America.
The XX century would become the era of the roads, and along with them, numerous urban and inter-urban tunnels would see the light.
The tunnel in Budapest and the tunnel under the Elba in Hamburg are examples of pioneer road tunnels in urban environment.
The explosion of inter-urban road tunnels takes place after the Second World War In the same way that the Alps were crossed by railway lines in the XIX century, now these mountains see the excavation of road tunnels that channel the traffic of cars and trucks between both sides of the alpine range.
(Source: « Manual de tuneles y obras subterráneas », Carlos Lopez Jimeno)
Examples
Berlin
Moscou
Prague
Rome
Buenos Aires
Tokyo